The news channel, WCCO, visited us this morning to get the scoop on our Apply & Drive program! We have been doing something unique this summer by letting applicants test drive a school bus during their interview. This initiative is lasting through Labor Day this year.
We were all buzzing with excitement when the WCCO crew showed up. Pauleen, was able to see firsthand how we're giving candidates a chance to get rid of their pre-driving gitters and creating space for them to get excited about their new career by letting them drive a school bus during their interview.
But here's the real highlight—Pauleen herself decided to take on the challenge and give the school bus a spin! She hopped into the driver's seat and drove a few loops around our parking lot. Pauleen experienced the real deal and gained a newfound appreciation for the skilled drivers who transport our community's children safely.
As WCCO's coverage of our Apply & Drive program hits the airwaves, we're anticipating more applicants eager to join our team. We're super proud of this initiative—it not only shows our commitment to safety but also our dedication to finding the best folks to represent our company.
We'd like to thank WCCO for stopping by and shining a spotlight on our Apply & Drive program. It's a game-changer, and we can't wait to see the positive impact it'll have on our organization and the lives of the students we serve. So stay tuned for more updates as we continue to redefine hiring, one school bus test drive at a time! 🚍✨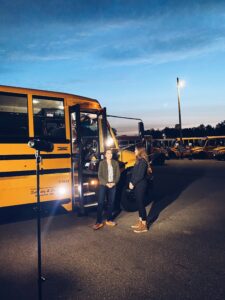 Watch the news clips here if you missed it!
Pauleen Le Tries Her Hand at Driving a School Bus
Companies Getting Creative to Find New Drivers